Colombian Mountain Water Decaf
£8.50 – £29.00
Swiss water decaf Colombian with sweet flavours of chocolate, raisin and honey.
---
Our Colombian Mountain Water Decaf Coffee
This Colombian Excelso has been decafinated using the Mountain Water Process. This unique non-chemical decaffeination process uses the clear pure waters from the highest mountain in Mexico, the Pico de Orizaba.
The process works by immersing the green beans in water in order to extract the caffeine content. The water preserves the soluble flavour components of the green beans and this protects the original characteristics of the coffee.
In order to remove the caffeine from the water containing these soluble flavour elements, the water is passed through a filtration system. This produces a solution comprising the origin mountain water and the soluble coffee flavours, now free from caffeine.
The resulting green coffee is 99.9% caffeine-free. The beans are then dried to the required moisture content, packed and ready to export in 69kg bags.
The Mountain Water Process is patented and is also organically certified in accordance with the regulations of OCIA, NOP and JAS. It is also Kosher certified.
Excelso beans are harvest from a variety of regions (here shown with their capital cities), including;
Antioquia, Medellin (18% of total production)
Tolima, Ibague
Caldas, Manizales (29% of total production)
Valle del Cauca, Cali (13% of total production)
Huila, Neiva (5% of total production)
Cauca, Popayan (4% of total production)
Santander, Bucaramanga
Bean Type
Caturra, Castillo, Colombia, Typica
Processing Method
Mountain Water
Altitude
1300-1600 metres
Harvest
October - January
Origin
Colombia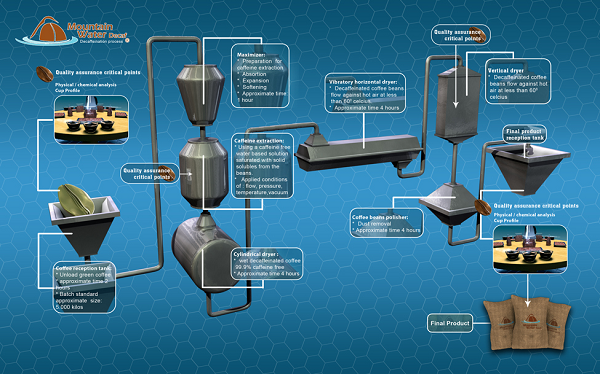 ---