Guatemala Swiss Water Decaf
£8.50 – £29.00
Swiss water decaf Guatemalan with flavours of caramelized sugar, nuts and sweet chocolate.
---
Our Guatemala Swiss Water Decaf Coffee
The Guatemalan coffee industry is a formidable one. Producing coffees from areas in the volcanic mountain ranges such as Huehuetenango, Coban, Fraijanes and Antigua – Guatemala is as famous for its regional specials as it is for the SHB and HB grades it more commonly exports. A mixture of small holder farms and larger estates make up the mainly washed production of Guatemala. The coffee flavourings offer a wide range from Chocolate and cherries, to citric acidity, sweetness caramel and nuts. Often a favourite on the cupping table of green coffee traders, Guatemalan coffee offers the chance for huge complexity in the cup, and richness, body and mouthfeel, Guatemala really does offer it all. Producers in Guatemala are passionate and careful with their crop, and whilst local infrastructure may not always favour them, this does little to deter the determination for producing ever better cupping coffees year after year.
To prepare the beans for caffeine removal, they are cleaned and hydrated with pure, local water, the beans are then introduced to an internally developed Green Coffee Extract (GCE), and caffeine removal begins. Caffeine ventures out on its own, away from the coffee beans into the GCE until the ratio of soluble compounds in the GCE to the compounds in the coffee reach the point of equilibrium. Caffeine and GCE flow continuously through carbon filters until all the caffeine is trapped and separated from the GCE, which is refreshed so that it can be used again and again to remove more caffeine. The process is monitored for around 10 hours and caffeine levels checked as well as time, and gauge temperature controls, until the coffee is 99.9% caffeine free.
Bean Type
Coffea Arabica
Processing Method
Swiss Water
Altitude
1100-1600 metres
Harvest
November - March
Origin
Guatemala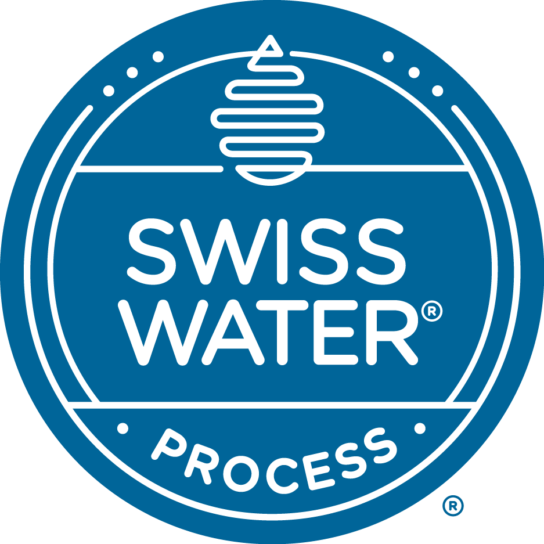 ---